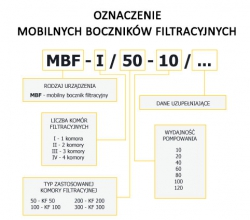 The bypass filtration units manufactured by our company are mobile devices. They are designed for filtering oils in machines and devices of various types (turbine lubrication systems, presses, plastic injection moulding machines, compressors, etc.).
They are manufactured as a series of types:
The unit can be configured and equipped as per the customer needs. We can also manufacture the unit according to explosion-proof standards.



Filtration units allow to carry out the following operations:


bypass oil cleaning in the course of regular machine operation
pumping used oil out of machines with the filtration chamber bypassed
zalewanie układów olejowych świeżym olejem


A specially designed union piece of the bypass filtering unit allows to connect easily and flexibly to different oil reservoirs via their oil refills plug without machine stoppage. At the same time, it secures correct relative position of suction and pressure hose tips.


Our devices guarantee operational cleanliness of machine oil systems consistent with requirements of ISO standards.


Detailed technical specifications of mobile bypass filtration units together with dimensioned drawings can be found in the download section.