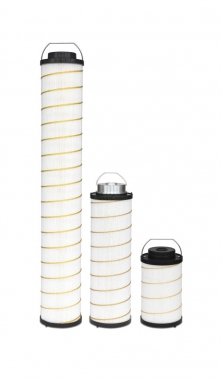 The nonwoven fabric filter elements series WF-W manufactured by us are designed to maintain sufficiently high cleanliness class which has a fundamental effect on reliability and wear of friction nodes.

Filter elements comprise a filtration partition (borosilicate nonwoven fabric reinforced with PP mesh on both sides) star-like shaped around the drain (perforated pipe). The direction of flow of the filtered medium is oriented radially towards the filter element centre.


The filtration partition is stars-shaped on order to increase the filtration surface area. It is composed of multiple layers:
filtering layers are non-organic and synthetic nonwoven fabric,
layers responsible for mechanical resistance comprise synthetic nonwoven fabric with high mechanical resistance,
the protection layer is a synthetic plastic mesh covered with an inner reinforcement in the form of a cord/glue helix stabilising the pleats or perforated shell,
drainage layer.
Such structure of filter elements manufactured by BBT company assure:
very high superficial-subsurface macro- and micro-impurities within the whole range of pressure drops on the filter element,
very good stability of βx throughout the working range,
low resistance of flow at high filtration accuracy,
high mechanical strength, also under pulsating flows,
high thermal and chemical resistance.

Nonwoven fabric filter elements ensure effective filtration in the following range:
3 µm at filtration ratio β3 > 1000
5 µm at filtration ratio β5 > 1000
10µm at filtration ratio β10 > 1000
20µm at filtration ratio β20 > 1000