Breathing filters — protect the interior of oil reservoirs against mechanical impurities contained in atmospheric air surrounding the oil reservoir.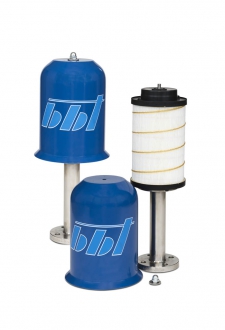 Breathing filters offered by us comprise a skeleton, connection port, the actual filter element, and external housing. The components such as skeleton, housing, and port can be made of carbon steel corrosion-protected by means of nickel-chromium electrolytic coating of a stainless steel. Breathing filters are replaceable components. The filtrating partition in breathing filters is made of boroslilicate nonwoven fabric and a drain. The filter is equipped with flange port to facilitate mounting the filter the oil reservoir. Each breathing filter has an external shell protecting it against mechanical damage and direct gravitational sedimentation of impurity particles on the filter.


The structure and physicochemical properties of the filtration material ensure:
high superficial-subsurface absorptivity;
high mechanical resistance thanks to elastic shelling of the filtration material on both filtered medium upstream and downstream side;
free flow of the so-called "breathing air";
effective blocking, coalescing, and separation of oil mist capable to evacuate from the oil reservoir,
very low flow resistance of the filtered air,
high chemical resistance.