Full-flow filters are designed to intercept solid impurities from turbine oils. They are used as a so-called line (protective) filters.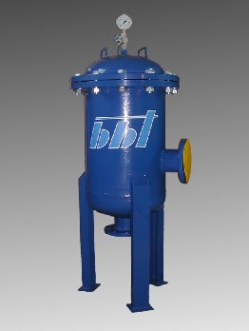 Depending on the oil system volume and type of operation, we offer full-flow filters of two series: FPP (single-chamber) and FPPD (duo — twin-chamber).

For systems which can be operated with filter temporarily bypassed or where the system can be operated intermittently, we propose a full-flow filter of FPP series. This is a filter comprising a single filtration chamber and filter elements are replaced with new ones with the system being temporarily stopped.

For oil systems in continuous operation, where the line filtration process must proceed continuously, we recommend filters of FPPD series. These are filtering devices comprising two filtration chambers inlets and outlets of which are joined by means of three-way valves activated by means of an oil flow controlling lever. Such solution allows the maintain continuous flow via: I — the left-hand-side chamber, both chambers at the same time, or II —right-hand-side chamber.

The full-flow filters of both FPP and FPPD series are equipped, as a standard, with the differential pressure manometers, drain ports, air vent ports, and nonwoven fabric filters or mesh filter elements placed in filtration chambers.
The filters can be manufactured as per individual customer orders. Therefore, the number and configuration of subassemblies mounted in the unit can be different.
Marking system:


Segment 1
FPP - FPPD FULL-FLOW FILTER
FPPD -DUO FULL-FLOW FILTER
Segment 2
50,100,200,300,600,1200 - MAXIMUM FLOW RATE (m³/h)
Segment 3
DN 200, DN 300, DN 350, DN 400, DN 500 - RATED FILTRATION CHAMBER DIAMETER
Segment 4
80,100,150,200,250 - NOMINAL PORT DIAMETER AT THE FILTRATION CHAMBER INLET AN OUTLET