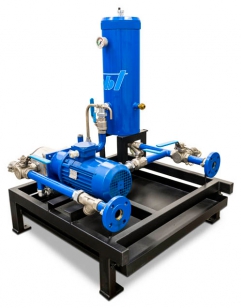 Another type of devices manufactured by us are stationary filtration bypass units. The bypass unit is a device permanently mounted at a specific location. It works as an autonomous facility.

To order of a customer, the unit can be equipped with an additional electric protection allowing to integrate it with the central automation and monitoring system.


The unit is designed for:


bypass cleaning of oil systems by means of removing mechanical impurities and free water,
filtration-assisted refilling and topping-up the oils systems,
operating in explosion risk zones (in the Eex version).


Stationary filtration bypass units guarantee operating cleanliness of machine and device oil systems according to requirements of ISO standards.


Detailed technical specifications of stationary bypass filtration units together with dimensioned drawings can be found in the "download" section.